Today you will see the extensive use of the digital market for business growth. The traditional market has already started migrating to digital platforms after the disastrous impact of the COVID-19 outbreak.
With more and more businesses moving to digital platforms, the challenge is increasing. However, many businesses are still not sure about the potential of online marketing and hence miss tons of opportunities.
Those who keep their business separate from online platforms and entirely rely on traditional marketing should read this article thoroughly and read out 11 things about digital marketing.
Before proceeding further, you should know about the four ps of marketing.
Product– Until you better understand your product, it's tough to explain the same to others. A product is an intangible service or good that is built to fulfill customer needs.
Price- The initial product cost depends on the market competition, demand, supply, margin, etc. Overpriced products are hard to sell. Even if such products are sold to specific units, they won't last for long in the market.
Promotion- How you promote your product affects its sales. Today, digital platforms are highly recommended over traditional marketing tactics.
Place- Placing your product at the right time, at the right place to deal with the right problem, is what takes it to new heights. Such practices are highly effective in overall sales growth for your specific product.
Now, let's take a look at some exciting things about digital marketing that will divert your mind from traditional marketing to modern tactics, i.e., online marketing.
1. Increased Brand Awareness:
FACT: 50% of people are more likely to click on a particular brand name if that brand name shows up more than once on the search results.
If you are looking for digital marketing over traditional marketing practices, brand awareness is one of your definite goals. Marketers always consider transforming their startup into a renowned brand, and online marketing helps them do the same.
With well-planned digital marketing, you can easily build recognition across the digital platform. According to Hubspot, 33% of marketers use paid advertising to increase their brand awareness. Moreover, Campaign Monitor found that from a study of 1,000 small business owners, email marketing was ranked as the second most effective medium for building brand awareness.
So, you can have a clear picture of how high potential online marketing has to promote your brand awareness.
2. More Inbound Traffic:
With traditional marketing, it's tough to get new customers with minimal effort, but digital marketing helps you a lot. With digital marketing, you can boost your inbound traffic. The basic tactics to boost your inbound traffic includes:
Create Compelling Content
Consider Organic SEO practices
Be active on Social Platforms
All these practices are part of digital marketing, which assure you fruitful results.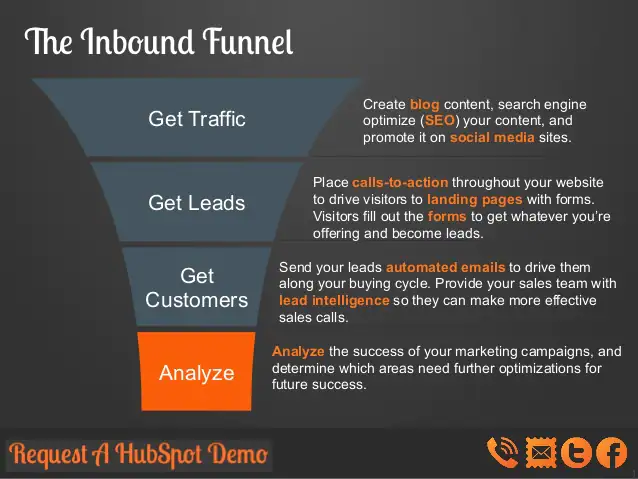 Source: https://image.slidesharecdn.com/whatisinboundmarketingfinal-140103105843-phpapp02/95/what-is-inbound-marketing-14-638.jpg?cb=1388969549
The above image clarifies the importance of creating a blog, putting efforts into SEO that ultimately bestows tons of inbound traffic to your website.
However, getting inbound traffic is only the initial phase of business growth. Converting visitors into customers is challenging. Still, getting inbound traffic is a tough practice that you can achieve through digital marketing.
3. Search Engine Rankings Start Improving:
Everyone loves the #1 rankings in Search Engine Result Pages (SERP). But it isn't easy to reach the top rankings. Search Engine Optimization (SEO), a part of digital marketing, is highly effective in promoting your rankings and delivering organic traffic. SEO helps you in boosting your organic presence with top rankings.
FACT: In 2021 (to date), Google accounted for just over 70% of all global desktop search traffic.
Increased SERP rankings mean maximum clicks on your web pages that directly affect your traffic and conversion rate.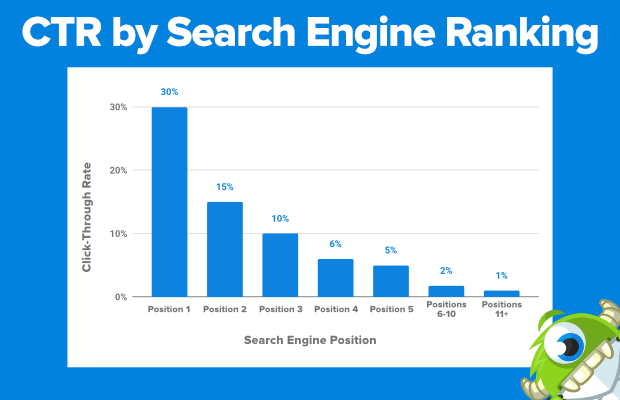 Source: https://cdn.optinmonster.com/wp-content/uploads/2019/11/ctr-by-position-page.png
FACT: The #1 Result In Google Gets 31.7% of All Clicks
With the right SEO strategy, you can get top rankings in search pages and hence get exponential hikes in organic traffic.
4. Higher Conversion Rates:
Undoubtedly, the cost of digital marketing is less than traditional marketing. Moreover, the conversion rate of online marketing is far better than traditional marketing practices.
Users on the Internet have a high probability of converting once they reach your website/product/service. However, this isn't the case with traditional marketing. On the Internet, the user mostly visits your webpage if they rely on your brand or Google showcases your page on the top SERP. In either case, you have a strong reputation on a digital platform which builds your digital efforts strong and fruitful.
Conversion rate is a crucial pointer for every business. Ecommerce has a high dependency on the conversion rate.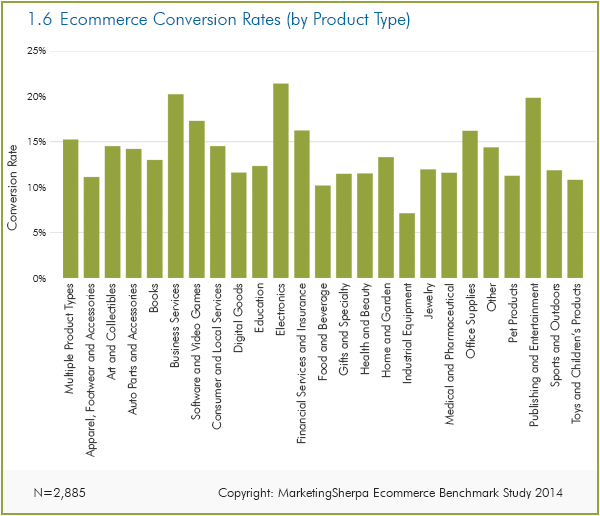 Source: https://www.invespcro.com/blog/images/blog-images/ecommerce-conversion-rate-product-type.png
FACT: The average ecommerce conversion globally is at 2.58%
Interestingly, this is far better than other marketing practices.
5. Customer Satisfaction:
In today's challenging and competitive market, it's crucial to entertain your customer and serve the whatsoever best is available in the market.
If you fail to provide top-level customer satisfaction, your chances of downfall are high. Customer satisfaction is a practical factor that decides the growth or decline of any product/service providing company.
Source: https://www.superoffice.com/contentassets/b3eca5a257df4741965c73c5848d9b29/top-priority-for-businesses.png
Based on the above image, you can analyze that customer experience is a significant factor in deciding your business growth. A satisfied customer can even compromise with a bit higher price than other options available in the market.
FACT: 86% of buyers are willing to pay more for a great customer experience.
Digital marketing helps you improve your customer experience. Following are different ways how online marketing boosts the customer experience that offer top-level customer satisfaction.
Helps in creating user-friendly content and provides maximum information about the product.
Entirely focus on delivering value, not volume
Spot and remove the friction points across customer journeys
Provide next level and personalized buying experience
6. Improved Brand Loyalty:
Brand loyalty means returning customers. A loyal customer is a legit customer who directly visits your website/portal to make purchases; without searching, sorting, or filtering the alternatives.
With the right digital marketing strategy, you can quickly improve brand loyalty and enhance your customer base.
Common ways to boost brand loyalty
Offer customers to create an account and share their wishlist, previously purchased items, etc., on a single platform.
Always respond to their queries.
Always update them about their ordered product
Use AI Chatbots that communicate with the customers with zero waiting time.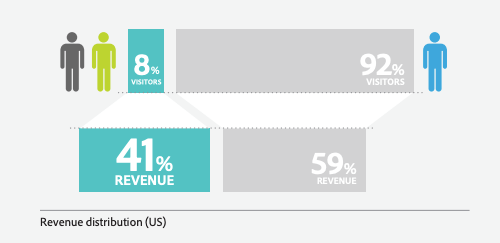 Source: https://blog.smile.io/content/images/2015/Repeat%20Customers%20Are%20Profitable/2020%20Update%20Images/repeat-customers—adobe-revenue-graphic.png
If you analyze the image above, you can clearly see that only 8% of the returning customers delivered 41% of business revenue. This tells the whole story of why brand loyalty is essential.
7. Cost-effective:
You already know that companies (regardless of their sizes) are relying on digital marketing to take a hike in online presence. Spending a one-time investment to a monthly paid budget, businesses are using the potential of digital marketing to make money and build a huge customer base.
Interestingly, the cost-effective trait of digital marketing is a prime factor in this. Compared to traditional marketing, online marketing always costs you low and provides you assured results.
NOTE: The result of your online marketing efforts is dependent on multiple factors that include your strategy, your budget, your customer base, and your efforts.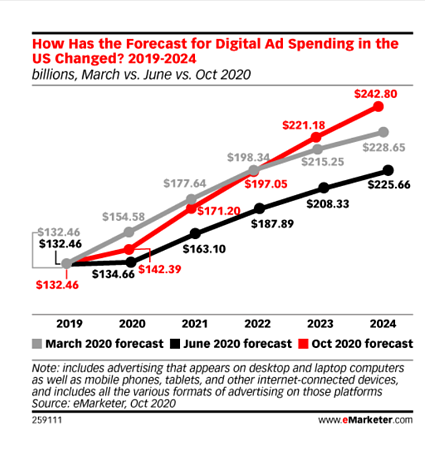 Source: https://www.webstrategiesinc.com/hs-fs/hubfs/Digital%20ad%20spending%20forecast%202024.png?width=426&name=Digital%20ad%20spending%20forecast%202024.png
With this, you can easily understand the massive demand for digital marketing across business owners. It shows how much businesses are relying on paid marketing and taking benefit of online practices.
FACT: With every $1 sped in digital marketing, businesses earn nearly $8.
8. Easy to Measure Efforts:
Have you ever wondered how traditional marketing efforts were measured? Well, there isn't any sure-shot method to churn out your efforts and find the effectiveness of any specific marketing strategy.
This isn't the case in digital marketing. With Online marketing, you get the capability to analyze every effort and simultaneously evaluate its effectiveness.
Some common ways to measure online marketing efforts are:
Tracking website traffic (via Google Analytics)
Checking email Open Rate (via Mail Chimp, Campaign Monitor, etc.)
Checking no. of Leads (via Paid Advertising Platform)
Checking Engagement (via Page Insights)
Broadly speaking, there isn't anything in the online industry that you cannot track. Instead, you can take advantage of online marketing to promote anything and track your marketing efforts simultaneously.
9. Focus on Targeted Audience:
The biggest pitfall in traditional marketing is that you never know your targeted audience. Even though you filter certain people from the list, it's tough to retarget them with a new product or service.
With online marketing, you can target a specific audience and entertain them separately.
Do You Know with digital marketing, you can target audience based on:
Prior Purchases
Age
Religion
Location
Marital Status
Internet Device
Budget
Number of Children
Internet Search History
Hobbies
Career Goals
Ethnicity
Prior Encounters with Your Business
Income Level
And more
Isn't that amazing?
With this, you get the opportunity to invest less and earn more. Digital marketing hence provides you high ROI compared to other marketing tactics.
10. Cater to Mobile Customer:
Today, maximum users across the globe use mobile and handheld devices to surf the internet. This defines the vast demand to cater to mobile customers and serve them based on mobile devices.
Relying 100% on the desktop version is worthless. Instead, you need to build a responsive website to help you reach mobile users and serve them the best.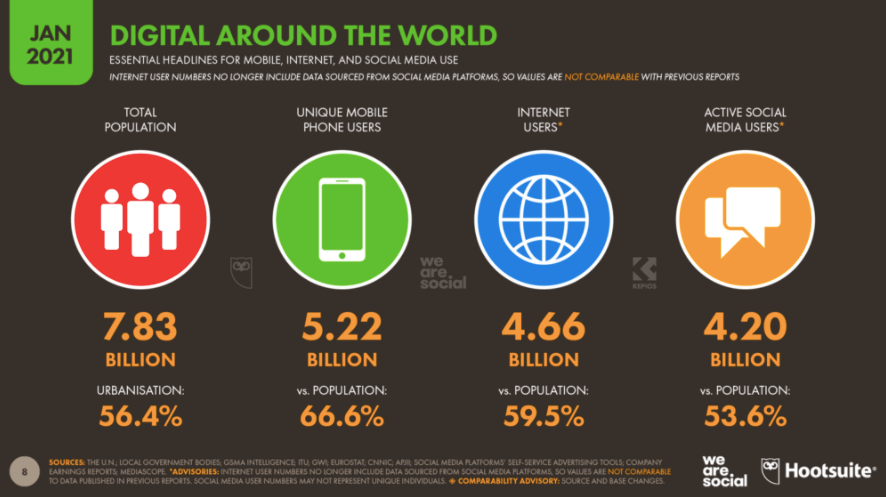 Source: https://www.smartinsights.com/wp-content/uploads/2020/09/2021-digital-and-social-research.png
Gone is the trend of wide-screen-driven marketing strategy. Today, digital marketing has made it possible to focus desktop and mobile users via a single website and bestow them without compromising with your business ethics and industry standards.
Traditional marketing fails to serve mobile users as their reach is restricted to print media only.
11. Makes You Ready for the Internet of Things:
Many of you already know the growing demand for IoT devices. However, most of you are still unaware that digital marketing is simultaneously evolving to take advantage of IoT. Yes, unlike traditional marketing practices, online marketing can take IoT opportunities into consideration and leverage online presence to a greater extent.
Voice search is the recent example of IoT-driven digital marketing, where marketing efforts are more inclined towards driving voice-search-driven results.
FACT: IoT makes 100% CTR a reality
Yes! Have you ever asked a query from Alexa, Siri, Google OK, or Cortana? Well, they always respond to you with the ZERO results of SERP. It means ranking at the top gives you 100% CTR, skipping the competition.
Another aspect of IoT is understanding customer behavior and converting them into patterns. It helps the marketer to better understand their customers and alter their marketing strategy accordingly.
With this, you clearly understand digital marketing and how it is a revolutionary method to explode your organic reach to a global audience. So, if you are already planning to migrate from physical presence to digital presence, now is the right time to fill the gap and bring your business on track.
However, it requires a professional team of digital marketing experts to help you follow the right practices and get fruitful results. A legit digital marketing agency can help you in this regard. Selecting the right marketing agency is essential for making the right investment and getting a significant traffic/customer hike on your website.
So, what are you waiting for? If you are still relying on traditional marketing for brand awareness, sales, business growth, etc., now is the time to migrate a step ahead.
With a digital marketing strategy, you can turn your business into a brand and experience exponential growth in terms of traffic and sales.
Author Bio:
Gajendra Singh Rathore is a digital marketing expert and is associated with a digital marketing agency Toronto. He is always eager to learn, experiment, and implement. Astronomy is his escape from the outside world.