Analytics is all about getting operational insights into your business processes. Data collection and storage keep taking center stage as technology evolves and merges into a daily business routine. Data analysis of past data and extracting valuable insights allows businesses to transform their operations.
The global big data and business analytics market was valued at 168.8 billion U.S. dollars in 2018 and is forecast to grow to 274.3 billion U.S. dollars by 2022, with a five-year compound annual growth rate (CAGR) of 13.2 percent. – Statista
Today, big data and its decoding are the keys to revealing areas that can be improved and enhanced. This article will discuss the importance of collecting, managing and analyzing data to create a successful customer experience. 
Why is customer experience crucial to businesses?
It is the customer experience that defines how your target audience is perceiving every interaction with your brand. With the pandemic hitting almost every industry in tandem, providing the best customer experience is the deciding element in your brand's success today.
Customer interactions on different channels are contributing to customer experience. So, businesses must realize the potential of providing an omnichannel interaction to their customers, be it in-store or online.
Customer experience is the moderator between customers and modern businesses
You may feel that having a nifty product or service alone is enough to gain a competitive advantage in the market. Your competitors can have the same products or services as you; however, your excellence in providing an excellent customer experience will help you stand apart.
Let's quickly list down why customer experience is needed to gain a competitive advantage apart from valuable products and services.
1. Reducing customer churn
With competitive pricing, you will get yourself noticed for sure, but when you deliver on the customers' expectations by providing them world-class service, you change the game.
Providing a superior customer experience to your customer pool helps you successfully retain them. Also, when an organization starts streamlining its customer experience across all the touchpoints, they promote a seamless customer journey.
2. Gaining competitive advantage
As discussed above, providing an out-of-the-world customer experience will always get you noticed, not just amongst your current customer pool but also amongst their peers. But you already know that don't you! Yet, many organizations are still lagging at utilizing the full potential of customer interaction data.
3. Boosting sales
When you plan and execute a superior customer experience, you get to enjoy its perks too. And what better bonus than a boost in your sales. After all, revenue is the driving source for every business and always has been. Your customers will willingly pay to procure your products and enable your services to get the customer experience they want.
A brief history about data collection and analysis
Leveraging customer data for boosting company sales figures is not a new thing. Businesses have been doing this for over half a century. Companies are practicing direct mail campaigns using targeted lists for a long time now.
While most campaigns found their way to the junk or spam folder, some intrigued the customers to ask the question, "where did they get my information?"
With the internet becoming more interactive in the past two decades, two significant facets of collecting and analyzing data have changed.
1. Scope of data collection
With digital transformation taking over organizations at an unprecedented pace, everything that the customer uses to interact with your business generates data. Customers communicate with intelligent assistants and speakers. They are having conversations with bots on websites and mobile apps apart from the traditional phone, text, and e-mail conversations.
Everything is data, and modern businesses are collecting and storing these datasets for individual users.
2. Customer-centrism
Well, you might already know about this. We are talking about the customer-first movement where everything is centered around customer experience. In digital marketing, customer centrism is now the core driving force.
Previously, companies were sending out thousands of e-mail to random users to make a sale of "something." The goal has since changed to playing the role of a moderator and educator where companies guide consumers to make a successful purchase of something they do want. This move has positively affected the way companies plan to enhance their customer experience.
Why is big data necessary for planning customer experience?
In the above section, you learned the perks of creating an incredible customer experience. Here, we will help you understand why big data analytics is crucial in creating a superior customer experience.
The global big data and business analytics market is estimated to reach $420.98 billion by 2027, registering at a CAGR of 10.9% from 2020 to 2027. – Allied Market Research
Customer-centric data analytics helps businesses prioritize and act on the requirements of their revenue impact. Customers equally impact that revenue, apart from marketing and sales.
While many organizations and C-suite executives realize the importance of creating a customer-centric strategy, many still fail to quantify it for providing a great customer experience.
The global big data market is expected to rise at a CAGR of 30.08% from 2020 to 2023, equating to $77.6B. And by 2026, the market size is projected to reach $512B. The emergence of disruptive technologies such as artificial intelligence, IoT, and machine learning puts C-level executives in the driving seat.
They are pumping more budget into big data analytics to understand their current business practices better. Big data analytics is also helping forecast demands in a faster and better manner with in-depth operational insights.
Digital transformation has put data at the center of the organization-wide strategy. And the best part is that it is happening across industries. Modern organizations now have easy access to high-velocity, high-volume data, as the range of these data sources keep rising.
So, big data analytics and customer experience go hand-in-hand for businesses that don't want to survive but grow in this competitive landscape.
Various consumer data types that companies must care about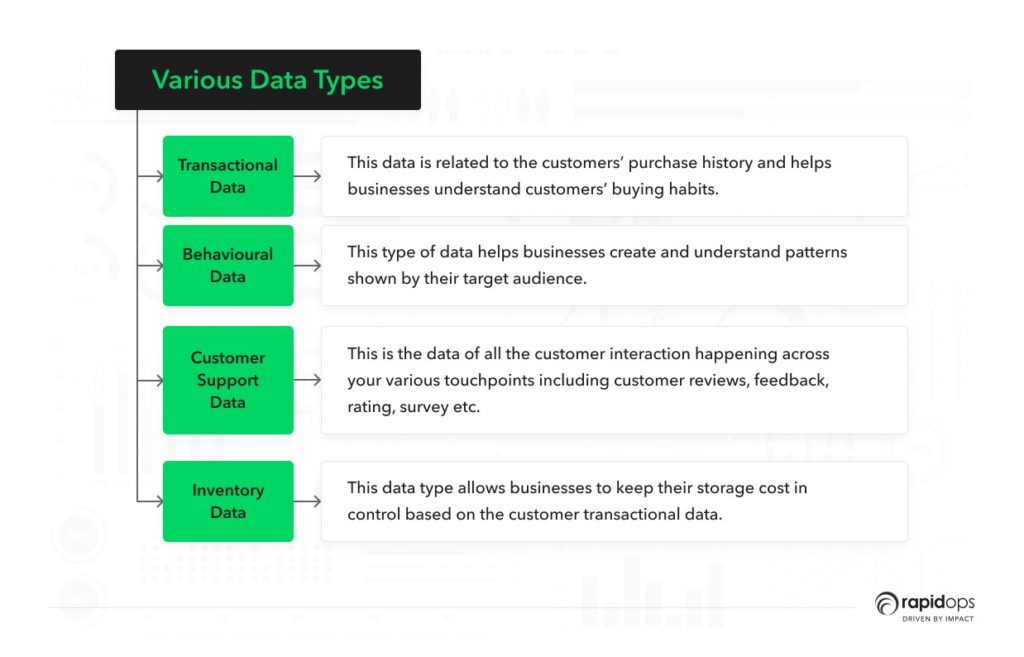 With the era of connected devices and streamlined communication on multiple customer touchpoints, companies are accumulating a large amount of structured and unstructured data.
For businesses, the unrealized value lies with unstructured data sets as they remain unused. Surprisingly, unstructured data contributes to around 80 percent of the data available with a company.
Companies realize that there is unprecedented worth in these unstructured data sets that consist of
Customer social responses
Feedback forum comments
Survey responses
E-mails
Text messages
Notes in the customer success department, etc
Let's dive into the various form of data that businesses must consider for modifying their customer experience with the help of big data analytics.
1. Transactional
This data is related to the customers' purchase history and helps businesses understand customers' buying habits.
Transactional data comprises of
Orders
Invoices
Payment methods
Payment timing
Other sales of goods and services data 
This transactional data is vital for departments like inventory, supply chain, accounting, and merchandising. This data helps businesses distinguish customer traits such as consumer budgets and purchase frequency from the marketing viewpoint.
Although this data might be stored throughout individual silos in most companies, a digital experience platform can create seamless accessibility via application programming interfaces.
2. Behavioural
This type of data helps businesses create and understand patterns shown by their target audience.
Behavioral data is collected by users' smart devices—every command, action, or interaction done by consumers on their device stores behavioral data. Although behavioral data can be a mixture of actions consumers might have taken on multiple devices, it is the journey that intrigues businesses.
For instance, as a business, you are more interested to know where the customer was just before they visited your website. The visitor might have come to your site from
Doing a Google search
Clicking an online ad
From a listing site
Intelligent tools in the market combine AI and ML and act on specific triggers created after analyzing the behavioral data.
3. Customer support
This is the data of all the customer interaction happening across your various touchpoints including customer reviews, feedback, rating, survey etc.
Customer service representatives always give their best while dealing with prospects and customers. They take in the feedback of your offerings and feed the same into a dedicated system for future use. They also support sales efforts and various customer success programs.
But are they working parallelly with your marketing team? Do they have enough visible data or data accessibility of your company's current and future marketing efforts? When your customer support team can collect and store new information, it enables your marketing efforts.
How? Well, all the updated phone numbers, e-mail, and mailing addresses are a gold mine for targeted marketing. In short, you are not shooting arrows in the blind. Your marketing efforts have a purpose now with better personalization. And we already have mentioned that better personalization leads to enhanced customer experience.
4. Inventory
This data type allows businesses to keep their storage cost in control based on the customer transactional data.
As a business, how often have you faced the issue of stock shortage? Rarely! If that is your case, bravo, you have successfully digitized your supply chain technologies. However, while reading this line, you realized that you face a stock shortage issue, so big data analytics is the answer to your woes.
It is crucial to have access to the availability or at least have knowledge regarding the status of a product. You must know if a particular item is in back order or has been completely taken off the shelf. This way, you keep your customers informed about the availability of products and keep them happy.
How do businesses use data analytics?
It's a tricky question but gets simplified as the use of data analytics varies by sector, business size, and resource allocation. Here are some examples of businesses using or applying big data analytics in their processes.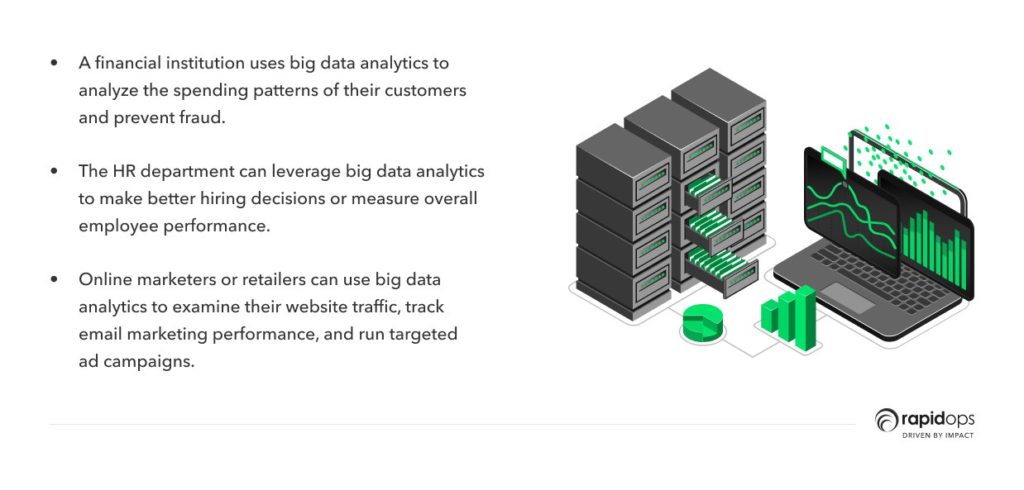 Important note:
Once businesses start analyzing their customers' decision-making data for comparing results in real-time, they can drastically improve their revenue. Therefore, modern businesses must leverage a combination of unstructured and structured data for transforming their capability. In other words, big data analytics helps companies to become agile and profitable.
How can big data contribute towards improving customer experience?
Now that we understand the various business utility of big data analytics let's see how businesses can improve customer experience. Raw data collection or having invaluable information in hand is not enough; you have to know how to make the most of it.
You need to take a data-driven approach and mix it up with personalization. You can do so by skimming the conversations you might have stored inside an efficient CRM system. You can also use data analytics to funnel the customer interactions on your web or mobile app across all customer touchpoints.
Let's learn how businesses can optimize their customer experience with the help of big data analytics.
1. No guesswork, pure personalization!
When you use efficiently use big data analytics, it helps in accelerating business to customer relationships. In short, big data analytics explores the company from the customers' point of view.
Personalization is the key term here as you want your customers to feel like royalty. Also, because your customer pool showcases different traits and characteristics, the regular "one size fits all" approach will never work for you.
As a business, how will you successfully build a lasting customer relationship? How are you going to keep them engaged with your offerings? How are you going to enhance their overall experience with your company? With big data and analytical tools.
Yes, with big data analytics, you can reduce the gaps and disconnects between your marketing strategies and your target audience. When you get detailed insight into what your customers want, you can successfully cater to that need and build better engagement.
2. Driving customer experience with metrics
Metrics allow businesses to track customer experience efficiently.
What are the organizational metrics that you track?
Is there a prolonged average handling time?
Is the first contact resolution rate continuously falling?
Are the customer experience service agents getting ample support from their supervisors?
Are the agents using the CRM system or the CRM database effectively?
When you successfully track and understand these metrics, you know how well your customer touchpoints are working. Also, you get to know how they are contributing towards enhancing customer experience.
Metrics also play a crucial role in personalizing the customer touchpoints. Customer-centric brands realize that a streamlined system helps them know the most intricate details of their customers. This detail is essential for providing excellent service and support to your customers.
3. Convenient and responsive customer support
Providing an omnichannel customer experience is necessary for improving the customers' interaction with your brand. So, do your best in streamlining your communication process and save the customers time.
Use data analytics to check which channel your customers are most used and preferred while interacting with your brand/company. Get insight into where the communication is lackluster and implement countermeasures according to the data.
For instance, if your customers are being re-routed, frequently utilize big data analytics to know how this communication can be more efficient. If you are a sales-driven business, it is essential that you provide call-back options to your customers so that they do not have to be placed on hold.
When you appreciate your customer in all forms and factors, you create unparalleled loyalty amongst them. As the Covid-19 pandemic showed us, this loyalty is essential in trying times.
Concluding thoughts: Businesses must streamline their data repository with headless communication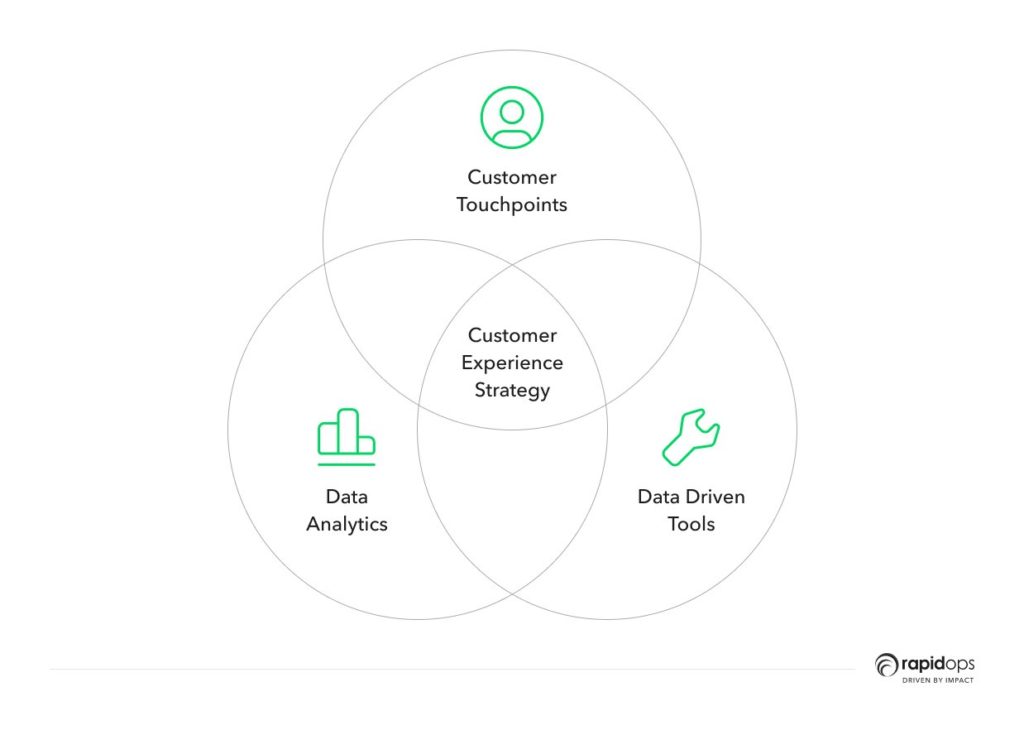 Fusing disruptive technologies or solutions into your operations benefits your business in using data-driven tools for improving customer experience. For every company out there, customer lifetime value is a critical metric as it decides their future.
Customers, being the lifeblood of every business, require regular grooming. Data allows businesses to create intelligent interactions with their customer to keep them engaged. When you spend so much to acquire customers, why not allocate some resources to retain and grow the number!
If and when you start gathering and unifying your customer data across customer touchpoints, you successfully start building a 360-degree view of each customer.
Some organizations will opt for customer-focused dashboards inside a CRM that will be accessible across departments. Others will see and train intuitive interfaces with natural language processes for understanding and responding to customers contextually.
Customer is and always will be king. All you require is a customer experience plan that will keep them hooked to your offerings. Compile, compare and consolidate a big data analytics strategy for your business and read the benefits.
Author Bio: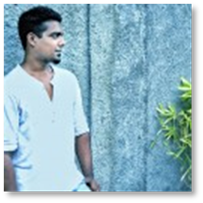 Saptarshi is a content writer at Rapidops and a geek in the digital marketing sense of it. He adores his furry kids and likes to read and write about revolution, expertise, and startups. In his spare time, he feeds strays, reads about new tech in the mobile world, and fidgets the internet for free food coupons.