The COVID-19 pandemic has triggered a tectonic shift in businesses' willingness to undertake digitization. This resulted in a surge of businesses moving towards digitization, and building an online presence has never been more important than ever before. When creating a digital footprint, your website's UI-UX is one of the biggest drivers of success since they determine how people visualize your business and how it associates with their mindset.
Therefore, it is essential that you invest in getting the right UI UX design services in the USA since it will help you build the right brand image and a fluid customer experience. But before you get started, it's essential to have an idea of how the UI-UX should be, and to help you out, experts at Techronus have come up with this list of top seven UI-UX trends that you can get inspired from. Let's begin.
#1 Virtual Reality
When it comes to modern web design trends, we cannot certainly deny the fact that virtual reality is going to be one of the best approaches when it comes to keeping the audience hooked. Data latency issues had been hindering its adoption, but as the world moves towards 5G and gears up for 6G internet connectivity, VR-based website experiences will become increasingly common. If your target audience is in a high internet connectivity region, you should definitely consider virtual reality as the principal component of your UI-UX design.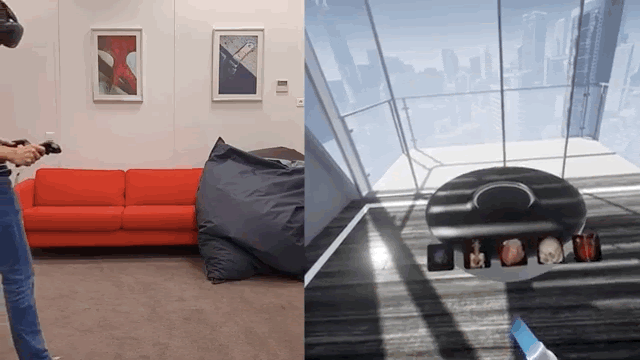 #2 Smart Personalization
If we were to state a UI-UX approach that can be implemented and yet remains rare, it is smart personalization. As of now, only a handful of sectors like ecommerce are leveraging this strategy, but it can drive incredible results for almost all businesses. Learning about user behavior is one part of the story, but customizing your website experience for individual users can be one of your best bets to ensure that they stay engaged with your firm for longer periods. Just like the below diagram, you can curate a highly relevant user experience using this design approach: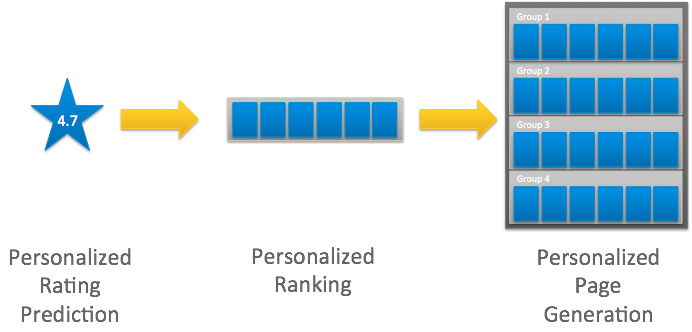 #3 Neumorphic
Many businesses have too much to say when it comes to data, and in particular, numerical data. It can look super boring and cluttered, but Neumorphic UX-UI design language can be your knight in shining armor since it adds a crisp visual appeal to the otherwise boring clutter of numbers. Usage of white space (or dark background for that matter) in contrast with the other small yet highly visible, colorful elements can help your design look very attractive while it makes it easy for the viewer to get the required information promptly. However, you can go for other coloring schemes, too, as long as you don't forget the basics discussed above.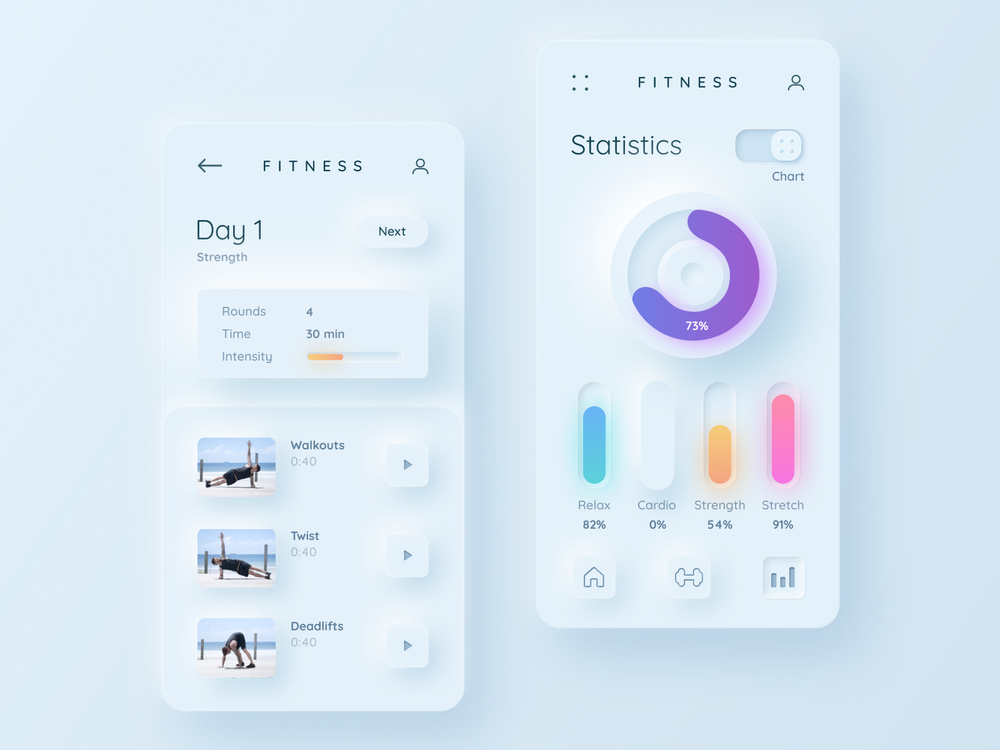 #4 3D Animations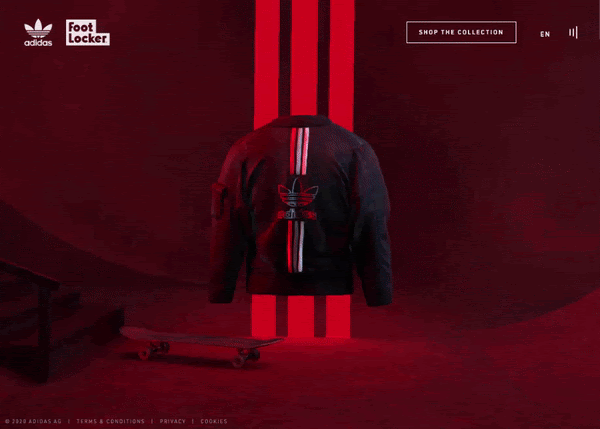 We cannot stress more the fact that 43D animations can be among the best design approaches that any business can implement for their UI-UX. The reason is simple: It allows you to create a realistic perception of the idea you are trying to explain, and it gives an in-person-like experience. You can use it as a prop to display your product, emphasize its technical specifications, or educate the viewer. 3D animations improve your odds of delivering the message, and there is no way you should miss this method if it suits your business model.
#5 Halo
Since the dark mode is making long strides these days, our editor found that the Halo design scheme should definitely sit on the top of your options list. The Halo effect looks amazing, and when combined with the dark backgrounds, it creates an alluring visual appeal that can go extremely well with luxurious products or, for that matter, even with technical products, including software. What we learned from providing UI UX design services in USA is that being unique in terms of design language can add tremendous trust in your brand, and therefore, this trend should definitely excite such businesses.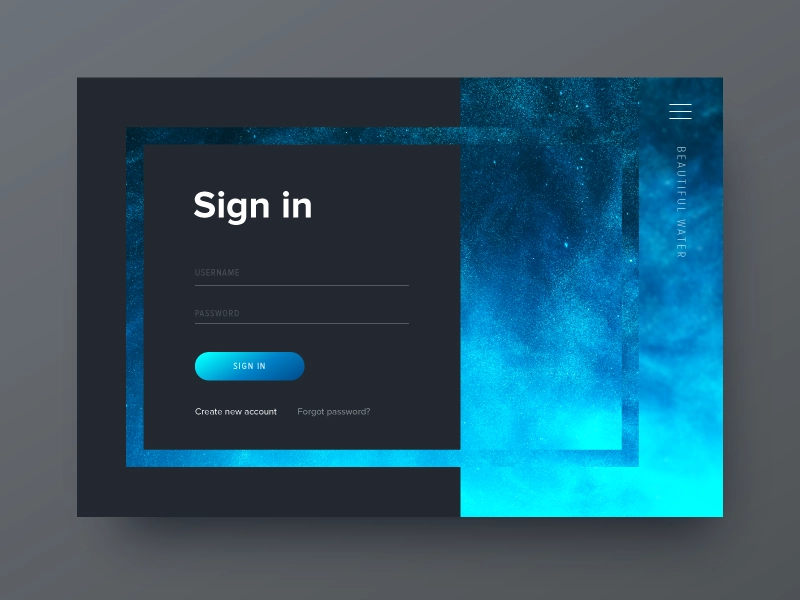 #6 Micro-Interactions
Humans are highly curious creatures, and adding micro-interactions is surely going to help you grab plenty of attention. In fact, even if you don't do an extraordinary job with your web copy and other elements like rich multimedia, the micro-interactions will keep the visitors hooked on their own to a great extent. However, this UI-UX design trend is especially beneficial for businesses that offer software-based technical products or have multiple brochures to display on their website. This helps keep your user experience engaging during those transitions and prevents the user's attention from moving to any other element during the load time.
#7 Retro Classics
Last in the UI-UX trends list, but not least, retro classics can be an amazing way to connect with your audience since the grown-ups would be able to connect well with such designs. On the other hand, it will help you attract much younger generations, too, since they are equally enthusiastic about exploring the initial days of the internet and the design language of the 1900s. If you are looking for a unique trend that also goes well with other design approaches like using animations and interactivity, classic retro designs are the way forward without any second thought. Just glance at this example and see if it could inspire some amazing retro classic design for your business:
Wrap Up
We have gone through some of the most amazing trends in UI-UX design, but there's a piece of advice we would like to share with our readers: Be an informed customer when seeking UI UX design services in USA but allow your vendor to have some room for creativity and customizations since every organization has a unique set of conditions in terms of market positioning, target customer base, and its brand value. Consider all these factors and pick a suitable UI-UX approach that resonates with your core business values.